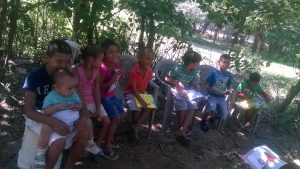 1 in 5 children in Nicaragua never learn to read or write, leading to adult illiteracy, and the perpetuation of the extreme poverty cycles that exist in Nicaragua today. One of our goals in combating that cycle, and providing tools for independence and self-reliance to every individual, is through our literacy program, which includes the following:
Construction of the first ever library in the community that allows anyone to come and check out a book. Access to books is the first step.
Literacy classes for parents and children that focus on the basic building blocks of reading
Mentor readers who weekly travel to different sectors of the village and provide reading group experiences with kids and adults. This is especially important considering that manychildren do not attend school for a variety of reasons.
A reading rewards program that tracks and measures reading participation throughout the entire area.